WE OFFER A VARIETY OF CREATIVE SERVICES TO SUITE EVERY NEED
We'll upgrade your existing site or build you a completely new site. Your brand will be presented to your online audience in the most effective way possible. Additionally, your ticketing will be integrated into the new design to maximize sales.
Take the internet by storm! Leverage your internet presence to bring more people to your show.
We provide a robust and scalable ticketing solution for traveling shows.
No Setup Fees.
We'll have you up and running in 48 hours or less!
Low Per-ticket fees.
Unlike our competitors, we strive to keep ticketing fees low and reasonable.
NO CREDIT CARD FEES.
That's right, no credit card fees! We cover those fees for you. You get face value on your ticket sales. If we sell a $15 ticket for you, you get paid $15.
Fast Payout.
You don't have to wait weeks to get paid. We pay out in 48 hours after your performance! We'll wire transfer directly to your account.
Straw House Ticketing is a better solution for your traveling show. Owned and operated by experienced showmen.
Harness the power of Social Media. We'll extend the reach of your marketing strategy to include Facebook, Twitter and Youtube.
The Right Tools For The Right Solution. Every Time.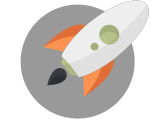 We're Here To Help Your Business Blast Off!
Through Creative Ideas, Innovation & Sheer Determination